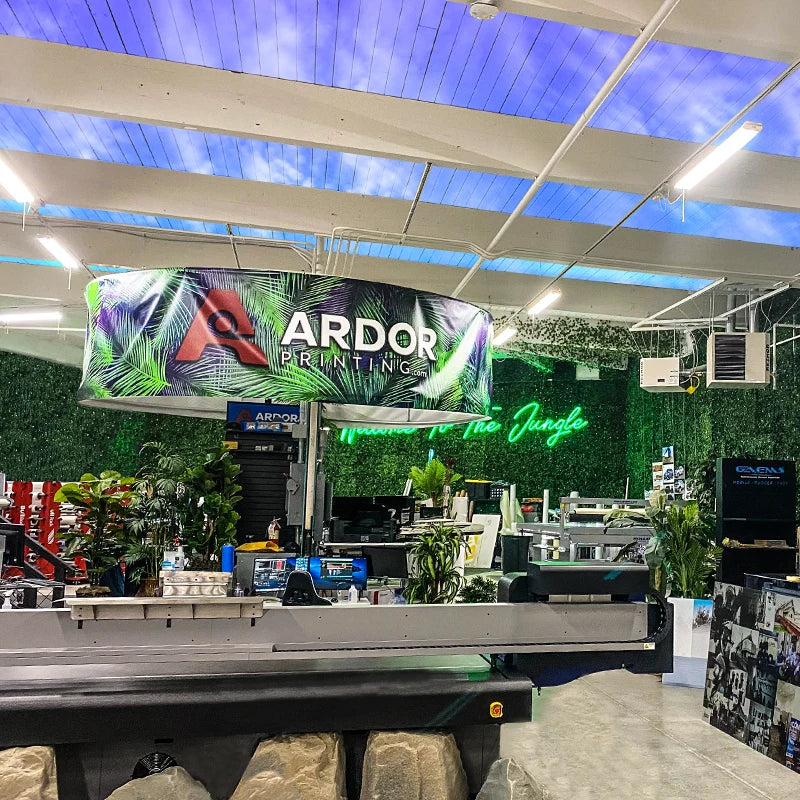 The Ardor Printing Print Room.
How Ardor Printing Revolutionized Local Printing Services in Seattle and Bellevue
Ardor Printing was established in 2013, starting in a college apartment with ambitious ideas and a dream to excel in the print and signage industry, particularly in Seattle, WA and Bellevue, WA. Initially, we primarily worked online, focusing on selling smaller prints due to space limitations. We soon created an Amazon Seller Account, developing templated print products for various electronic devices.
As our business grew steadily, we invested in a larger printer and moved into our first office in Kittitas, WA. Despite the small-town setting, we rapidly expanded our team, honing our focus on processes, design, and local services, such as vehicle wraps, car wraps, banner printing, sticker printing, and sign making.
Our dedication to quality and service resulted in shipping over 30,000 custom print products annually and offering a catalog of more than 100,000 products online. With the acquisition of larger local clients in the greater Seattle area, we decided to move the business to Bellevue, WA.
In Bellevue, our growth continued, and so did our clients' needs, prompting us to rent a second warehouse and build a new 30,000 square foot production facility in Snohomish, WA in 2018. The expansive facility, with nearly 100,000 square feet of indoor storage space, enables us to continue developing our capabilities.
Today, we prioritize investing in the industry's top print manufacturing technology and automating many of our procedures. We are passionate about the printing sector and are fully committed to the ongoing improvement of our company to consistently deliver top-quality products on time and under budget. Our dedicated team works around the clock to meet your printing requirements, and we are proud to remain 100% American-owned and operated.
At Ardor Printing, we look forward to providing you with the best solutions for your printing and signage needs in the Seattle and Bellevue areas. Let us bring your creative vision to life!