Custom Made Signs
At Ardor Printing, we understand the importance of effective store signs and window signs. We know that up to 50 percent of a business's sales can come from signage, which is why we offer custom-designed retail signs that are fabricated to the highest quality standards and mounted in optimal locations. Our solutions include dimensional letters, illuminated signage, pylon signs, and many more! We can also update your existing signage if it's showing its age or displaying an outdated logo, graphic, or corporate color. So if you're looking for a Sign Shop that can help you improve your business prospects, look no further than Ardor Printing!
Did you know you can order your custom a-frame online?
Order Your Next Sandwich Board Online.
Order your signs online is easy and fast with Ardor Printing. Simple select which color a-frame / sandwich board you would like and upload the artwork for the back and front of the sign. We will get the sign printed and shipped directly to you the next day!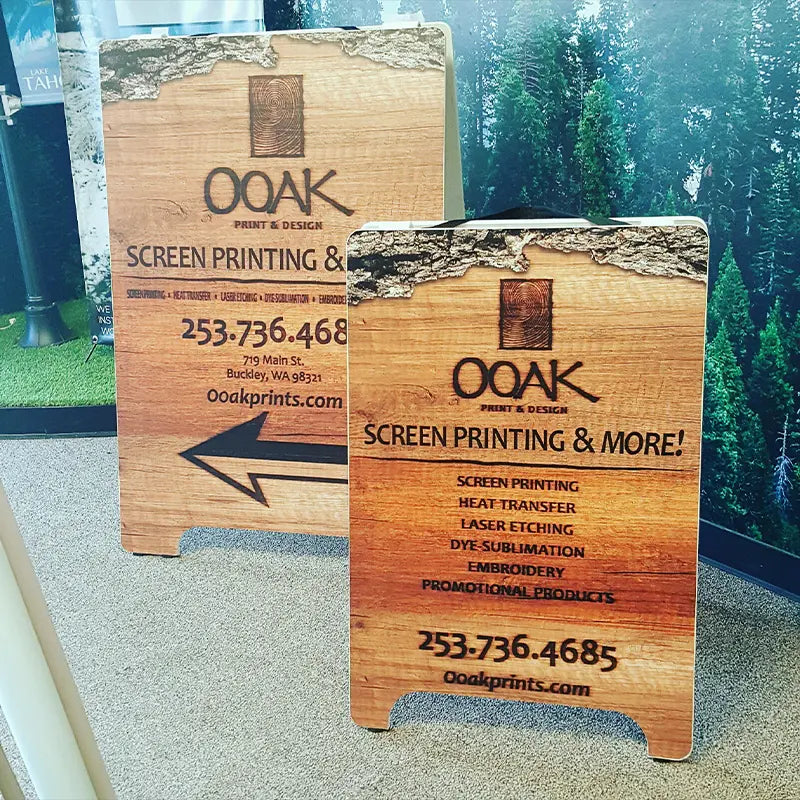 Printed Wood A-Frame Signs
Here are a few different sized wooden a-frames or sandwich boards we printed for Ooak Screen Printing in Buckley, WA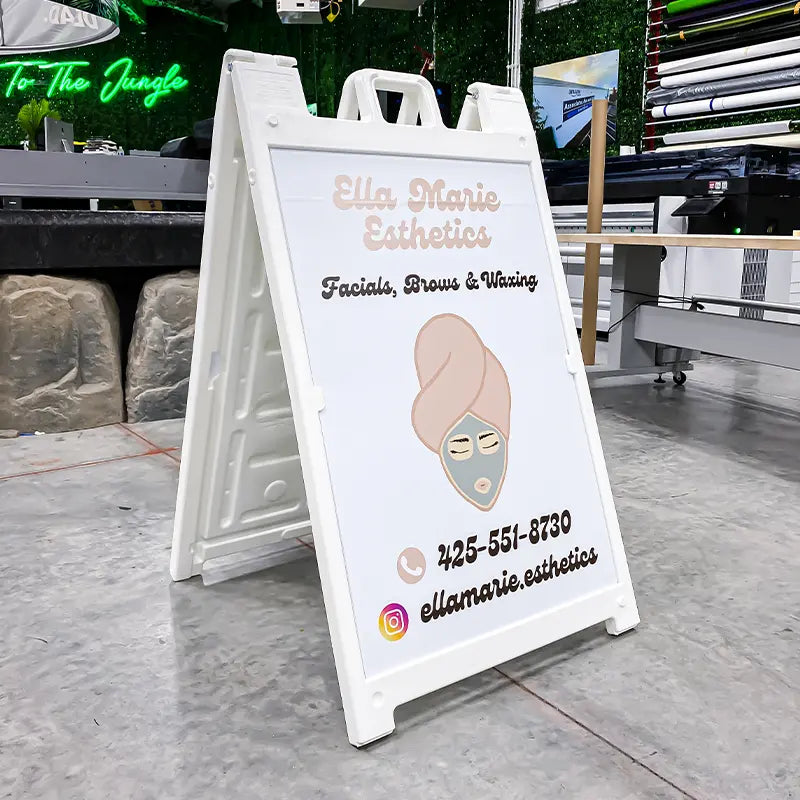 Signacade A-Frame With Coroplast Insert.
This a Plastic signacade sandwich board we made for Ella Marie Esthetics in Snohomish, WA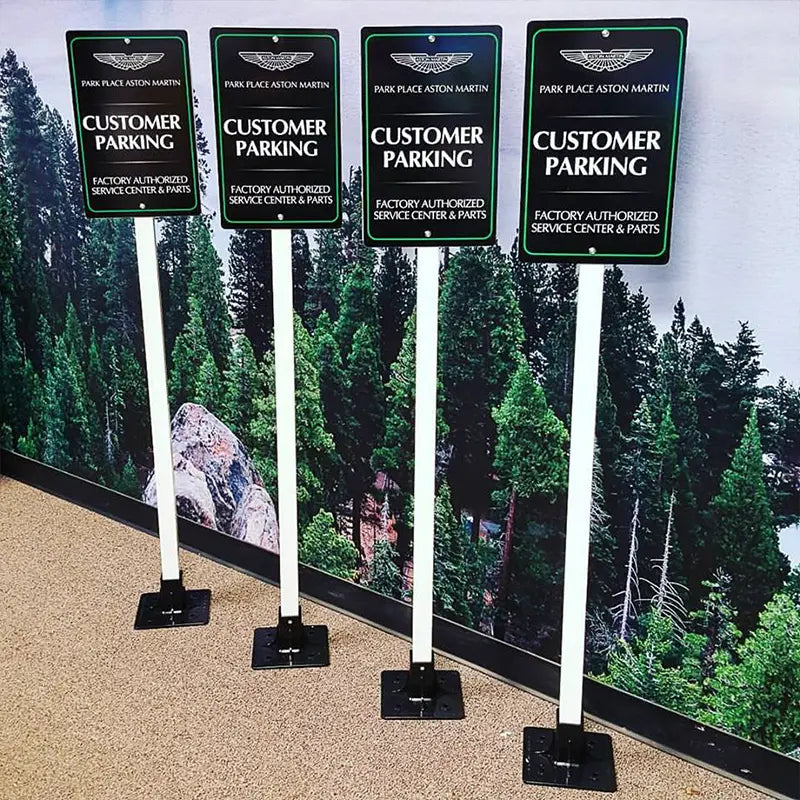 Customer Parking Signs
Here is a few of the customer parking signs we made for Park Place Aston Martin in Bellevue, WA. We took these photos right before the installation.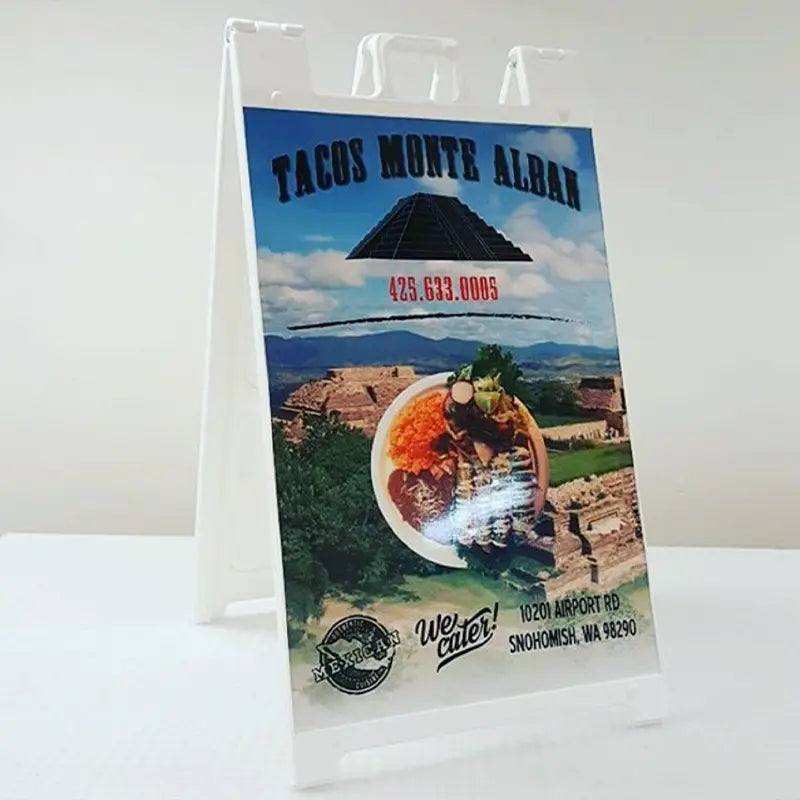 Signacade Sandwich Board
This is a sandwich board we designed and printed for Tacos Monte Alban in Snohomish, WA. This type of A-frame doesn't have a Coroplast insert.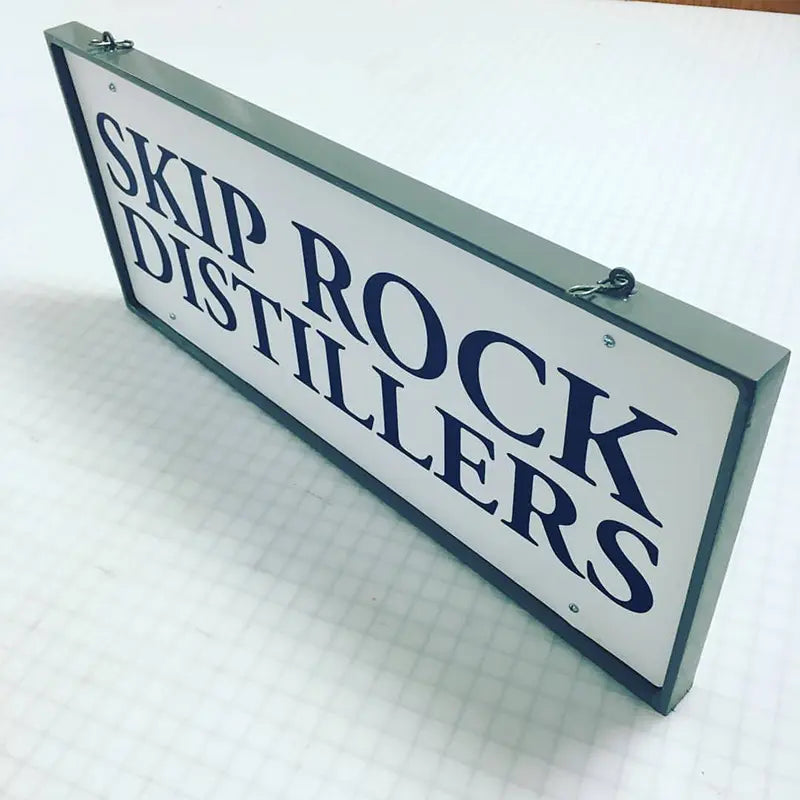 Overhead Hanging Business Sign
Here is an overhead hanging business sign we did for Skip Rock Distillers in Snohomish, WA. The sign insert was digitally printed on 4mil DiBond.
Non-Illuminated Storefront Sign
This is a large non-illuminate store front sign we manufactured for Zadart Exotic Car Rentals in Bellevue, WA. This was used as temporary signage while they moved locations.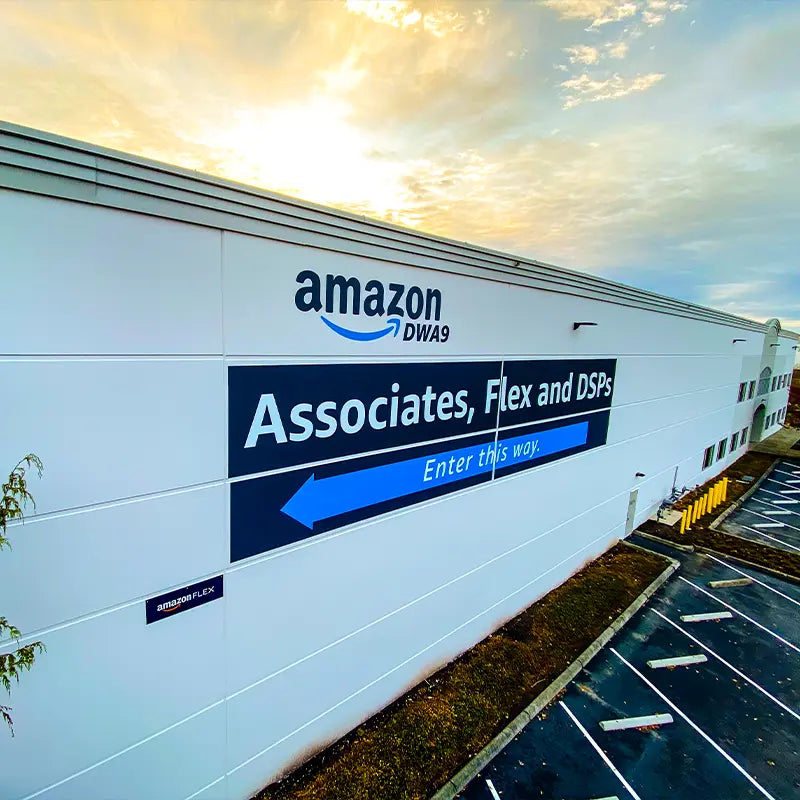 Large Scale Building Graphic
This is a large vinyl sign we printed and installed for Amazon DWA9 in Sumner, WA. These large adhesive graphics are great for large scale signage that need to be installed quickly.
Roof Top Billboard Sign
This is a large digitally printed roof top billboard sign we made for Green Image Landscape in Auburn, WA. All the graphics were printed on our flatbed using 4mil DiBond.
Realestate Signage/Lot Sign
This is a lot sign we designed and printed for trailside homes in Cle Elum, WA. These signs were printed on ACM and installed on a 4" x 4" treated wood post.
Custom Signage From People Who Care
Ardor Printing's Bellevue Sign Division is a leading provider of custom commercial signs, graphics, and wraps. Our team of experienced professionals takes care of every aspect of your sign and graphic job right here in our local commercial signage shop. With earth-friendly manufacturing methods, premium production materials, and a devotion to providing superior products and services, our team looks forward to becoming your provider for all your promotional and marketing desires. Contact us today to learn more about our wide range of services and how we can help you elevate your business with our custom signage solutions.
Top 10 FAQs for Custom Signage Solutions in Greater Seattle, WA
Our sign shop provides a wide range of custom signage services for the Greater Seattle, WA area, including outdoor banners, retractable banners, step and repeat backdrops, changeable Signicade A-Frames, acrylic glass prints, and stretched canvas prints, perfect for businesses, events, and personal use.
Ordering custom signage in the Greater Seattle, WA area is simple! Visit our website, select the contact page and fill out the contact form. From there you will be immediately contacted by one of the Ardor Printing team members and we will get your project underway!
Our sign shop is committed to delivering top-notch custom signs with a fast turnaround time. Production and delivery times may vary depending on the product and quantity ordered. Generally, you can expect your custom signs to be ready within 5-7 business days in the Greater Seattle, WA area.
Absolutely! Our experienced design team is available to assist you with creating the perfect custom sign for your needs. Contact us to discuss your design ideas, and we'll work together to bring your vision to life.
Yes, our custom outdoor banners, changeable Signicade A-Frames, and other outdoor signage options are made with high-quality, weather-resistant materials to ensure durability and longevity in the Greater Seattle, WA area's varied weather conditions.
Yes, our experienced team of installers can assist with installing your new sign!
The cost of custom signage in the Greater Seattle, WA area depends on factors such as the type of sign, materials used, and complexity of the design. We pride ourselves on offering competitive pricing and excellent value for our high-quality custom signs.
Yes, we're happy to provide a free, no-obligation quote for custom signage in the Greater Seattle, WA area. Contact us with your project details, and our team will provide a personalized quote based on your unique requirements.
We understand that ordering custom signs in bulk can lead to significant savings for your business or event. Contact us to discuss your project requirements, and we'll be happy to provide you with a tailored quote that reflects any available bulk discounts.
Our sign shop is dedicated to providing exceptional customer service, high-quality materials, expert craftsmanship, and personalized designs that stand out. With our fast turnaround times and competitive pricing, we're confident that you'll be delighted with your custom signs from our Greater Seattle, WA area sign shop.